Find answers to the questions Artimus Robotics gets asked the most. If you have questions that we have not yet answered, we would love to hear from you! Contact us to contribute to this FAQ and a member of our team will be in touch shortly.
What is an actuator and what is it used for?
---
"Actuator" is a fancy word for any device that moves. Actuators are the fundamental components responsible for generating movement and force in all mechanical devices and machines. For example, actuators can be used to automatically open and close valves for an industrial process or to drive the controlled movement of a robotic arm. Actuators can also be found in consumer devices--the vibration of your phone comes from a compact haptic actuator. Actuators aren't just found in human-made systems; in fact, our muscles are a great example of a high performance and versatile actuator.
---
How do HASEL actuators work?
---
When a voltage is applied across the opposing electrodes, one electrode becomes positively charged and the other negatively charged. Since opposite charges attract, the electrodes squeeze together and displace the liquid from in between them to the region of the device that is not covered by electrodes. This process results in an overall shape change of the soft structure. Using this basic principle (below), actuators can be created to achieve different types of motion such as expansion and contraction, while featuring controllable, fast, and efficient operation.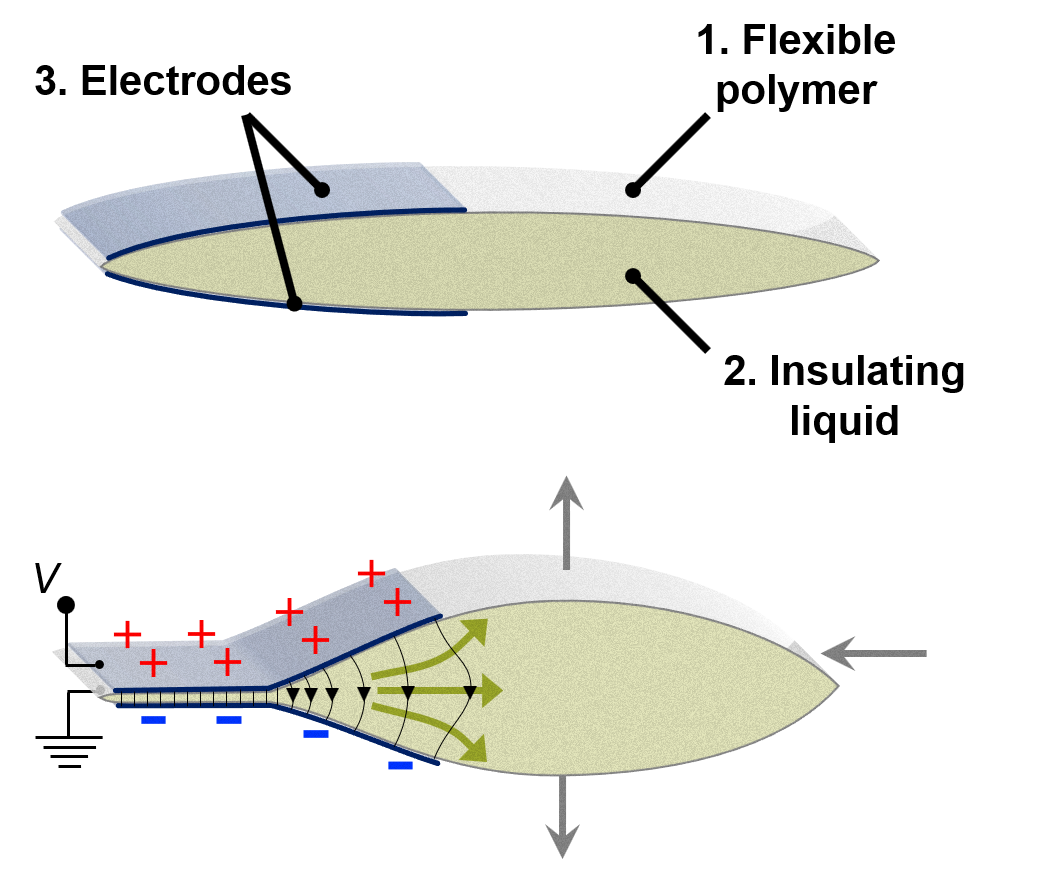 ---
How are HASEL actuators powered?
---
HASEL actuators require high voltage DC power (currently 5-10kV depending on operating circumstances). We suggest that you only control our HASEL actuators with our in-house designed power supply, which is specifically developed to power HASEL actuators. This power supply features both push button, demonstration, and computer software control options. However, If you are proficient in high voltage control, you are welcome to control the actuators with your own power supply, and we can provide engineering suggestions on best practices. If you have any questions regarding powering your HASEL actuators or power supply, contact us .
---
What applications can HASEL actuators be used with and in what industries?
---
Currently, our HASEL actuators are implemented for industrial conveyor brakes, biomimetic unmanned underwater vehicles (UUV's), and various human-machine interface (HMI) applications. However, countless additional applications are in development and we are always exploring new use cases. Our team of experts are available to provide engineering support for your unique needs. Please, connect with us if you would like a consultation.
---
Where can I buy HASEL actuators?
---
If you are interested in purchasing our HASEL actuators, refer to our Products page where you can buy our development kit, one actuator, multiple actuators, and other custom engineering solutions. We are ready to find your exact motion solution, just contact us !

---
Is it possible to purchase products separately from the development kit, such as only one actuator, multiple actuators, or the power supply alone?
---
On our Products page, you can find the development kit and a description of the standard components offered with the kit. Additionally, you will find tutorials for operating these products. If you need a wider range of customization, reach out to us and we can find (or make) the best solution for you.
---
How much does the development kit cost?
---
Since user applications of HASEL actuators vary, the cost of the development kit varies as well. We want to connect with you so that our team of experts can provide you with your exact use case needs. For more information about your applications needs and pricing, connect with us.
---
What are the technical specifications of the development kit?
---
If you are wondering whether our development kit has the technical specifications to meet the needs of your application, contact our team of engineers to get expert advice on what your project will require and what we can provide.
---
Are there tutorials or guides for operating the development kit?
---
Yes! Check out our in-depth operating video to better understand the operation and capabilities of the development kit on the Products page. If you need more guidance and direction, ask our engineers to walk you through the process.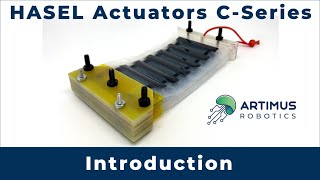 ---
How do HASEL actuators directly benefit you as a user?
---
The value that comes from our HASEL actuators varies by application, but regardless of your use case, our HASEL actuators will provide you with these distinct features: softness and compliance, direct analog electrical control (no need for compressors, valves, gearing or other mechanisms to produce the desired movement), large bandwidth operation from DC to 100s of Hz, and the inherent ability to self-sense actuation.
---
What if my HASEL actuators do not work well with my application?
---
To ensure quality and performance are met, we test every system in-house before shipping. Should HASEL actuators fail to operate well in your application, Artimus is committed to your success. For engineering support, custom solutions, operating instructions, and more, reach out to us.
---
I have an idea for using HASEL actuators in a use case not listed on this site; can I still work with Artimus Robotics to implement HASEL actuators into my use case?
---
The benefit of HASEL actuators are its versatility and adaptability, often fueled by the ability of HASEL actuators to take unique form factors. If you need a unique form factor that is not available on our website, we can provide custom geometries to meet your exact needs. Furthermore, we are constantly expanding our use cases and always willing to engage customers in new application areas. Please, contact us for customization solutions.
---
Why are HASEL actuators an exciting technology?
---
HASEL actuators are a groundbreaking technology that brings new and exciting opportunities to a multitude of motion challenges--the possibilities are endless. At Artimus, we design our products to improve the quality of life for everyone across various industries. To find out how we can help with your unique motion challenges, chat with us to find out how we can help with your unique motion challenges.
---
Currently, what do the career opportunities look like at Artimus Robotics?
---
At Artimus, we are always looking for talented self-starters who are knowledgeable, creative, willing to learn new skills, and are passionate about changing the world. Located in Boulder, CO, we are very open to working with university students who have business and technical backgrounds. Please, reach out to us if you are interested in joining the team!
---
What if I have a question that is not listed here?
---
We are here to help! If you have a question that has yet to be answered on this FAQ, please reach out to us using the contact form below. We look forward to answering your questions.
---
How did HASEL actuator technology originate?
---
Hydraulically amplified self-healing electrostatic (HASEL) actuators are a commercialized soft robotic motion technology, featuring muscle-like performance, that spun out of the Keplinger Research Group at the University of Colorado Boulder. Artimus Robotics was founded in 2018 by the core inventors of the HASEL actuator technology, who sought to develop a commercialized product by building off their PhD dissertation work in mechanical engineering and materials science. To learn more, check out this short video below: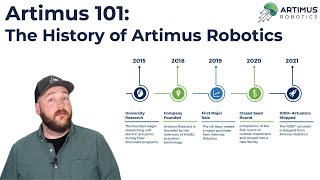 ---
What is soft robotics?
---
Soft robotics is a subfield of robotics that aims to reproduce the versatility of biological organisms by incorporating soft or compliant components into robotic structures, increasing their adaptability and resilience. One key focus of soft robotics is the development of muscle-like soft actuators that leverage compliant materials. Artimus Robotics is the only soft robotics company that offers soft actuator technology that is electrically controlled, provides continuously variable output, operates at high speeds, and is silent. Artimus Robotics has applied its HASEL actuator technology to a wide variety of industries such as industrial automation, human machine interfaces, and defense.
---
What is an artificial muscle?
---
The term "artificial muscle" is often used as an umbrella term for various soft actuator technologies that use bioinspired design – for instance in their structure, materials, or operating principles -- to achieve muscle-like performance. HASEL artificial muscles, the proprietary soft actuator technology behind Artimus Robotics, are able to achieve life-like performance with electrically controlled hydraulic structures. HASEL actuator technology offers a combination of lightweight materials, low power requirements, and controllable output and can be implemented in a variety of form factors and actuation modes. Artificial muscles are finding applications in a wide range of fields such as biomedical devices, industrial automation, virtual and augmented reality, national defense, and many more!
---
What is the meaning behind the company's name, Artimus Robotics?
---
Not to be confused with the greek goddess Artemis, the origins of the name of Artimus Robotics came from its core technology, HASEL actuation technology, which provides artificial, muscle-like actuation that is being commercialized over a wide range of industries and applications. Muscle-like actuators such as the HASEL actuator have earned the name 'Artificial Muscles' thanks to their ability to reproduce the performance of natural muscles. The founding team of Artimus Robotics took inspiration from the term, "Artificial Muscles" to form a portmanteau of "artificial" and "muscle" which became coupled into "Arti-mus."
---
What is the difference between HASELs, Peano-HASELs, and soft actuators?
---
Soft actuators include any number of actuation technologies (piezoelectric, pneumatic, shape-memory, etc.) that leverage soft or compliant components in their structure. Soft actuators can range from mostly rigid devices with flexible components to highly elastic structures, but their common goal is to improve the resilience and conformability of the soft robotic structures that they power. HASEL actuators are a subset of soft actuators that uses an electrohydraulic mechanism to drive shape change in a soft hydraulic structure. Peano-HASEL actuators are a specific type of HASEL actuator that demonstrates controllable linear contraction on activation, much like biological muscle; their name is a nod to the Peano fluidic actuators that served as an inspiration for their design. At Artimus, we do not differentiate between a HASEL actuator and a Peano-HASEL actuator, instead preferring to refer to our entire suite of devices as HASEL actuator technology.
---
---
Frequently Asked Questions